JCC Manhattan's Healthy Living Committee Yoga Classes

The Healthy Families Healthy Kids committee teamed up with Lil' Yogis NYC at the
JCC of Manhattan to enjoy some yoga fun followed by a delicious healthy snack!
Check Out Some Photos From Lil' Yogis NYC End Of The Summer Party!
Lil' Yogis NYC End of the Summer Party 2013
Published August 16, 2013



Come Join Lil' Yogis NYC for our second annual end of the summer party! There will be water games, yoga and art activities! The party is free for everyone and will surely be an end of the summer hit!

Who: Lil' Yogis NYC & YOGART
What: A Free End of the Summer Party in Central Park
When: Wednesday August 28th from 10am-12pm
Where: Entrance on 85th and CPW on the Lawn Across from the Mariners Playground 
Why: To Celebrate the End of the Summer!





Lil' Yogis NYC Girls Afternoon Out!
Published February 6, 2013
Join us on Monday, February 11th from 4pm - 6pm at Sprout San Francisco
on the Upper East Side for a very girly afternoon!

Complimentary Yoga Hip Hop Class at 4:30pm hosted and taught by Lil' Yogis NYC. Refreshments by Honeydrop. Snacks by Plum Organics.

And what's a girls day without some shopping? ivivva athletica (lululemon's awesome new line for active girls) will be set up with a trunk show of some of their latest and greatest gear!

We can't wait to see YOU and your friends at this fabulous girls afternoon!

Sprout San Francisco
1375 3rd Avenue
New York, NY 10075
Check Out Some Photos From Lil' Yogis NYC End Of The Summer Party!
Lil' Yogis NYC End Of The Summer Party
Published August 6, 2012
Join us August 25th from 10:00am -12:00pm for our end of the summer party!

Located in Central Park entrance on 67th street between the Tots Playground and Sheep Meadow, there will be yoga games and fun for the entire family.

Melinda from Children's Parties NYC will be face painting and there will be snacks by Plum Organics!

There is no cost to attend.

We hope to see all of our Lil' Yogis there!!!


The Bronx Zoo Presents: Animal Tales Extravaganza with Lil' Yogis NYC
Published March 12, 2012
This spring Lil' Yogis NYC will be at the Bronx Zoo for Animal Tales Extravaganza! Join us for yoga on Astor Court, 3 times a day on Saturdays and Sundays April through June.

Not only will your family enjoy a fun-filled day at the zoo, your children can even get the chance to meet and greet their beloved TV characters.

The lineup includes a meet and greet with Yo Gabba Gabba!, Olivia, Dora and Diego and a singalong with Barney!

We hope to see you there!


Lululemon Presents: Kids Yoga with Lil' Yogis NYC
Published September 21, 2011
On September 17th & 24th at 8:00 am, come join Lil' Yogis NYC at:

Lululemon Lincoln Square Store
1928 Broadway (at 64th Street)

To reserve a spot, please send ANemail to lilyogisnyc@gmail.com


Lil' Yogis NYC Rocks Central Park!
Published May 21, 2011
New York City Kids will be kicking off their shoes every day this spring for yoga and live music in Central Park. The classes have new extended times and will take place on the lawn outside Adventure Playground and Tots Playground (West Side at 67th Street, across the road from the old Tavern on the Green)

Click Here for our Class Schedule

In addition to attracting top yoga instructors and live musicians, Lil' Yogis NYC Rocks the Park! has become one of the city's favorite places to gather, learn, socialize and practice yoga for kids!

Lil' Yogis NYC Rocks the Park! guarantees kids will have just as much fun as their parents do practicing the ancient art of yoga with our new and improved 2011 children's program. Geared for kids ages 2 - teen, the fun and interactive yoga class features hula hooping and many other surprises for all kids who participate.

Lil' Yogis NYC Rocks the Park! donates a percentage of class fees to The New York City Department of Parks & Recreation.
Birthday Parties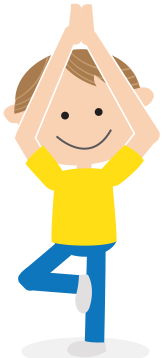 Welcome
Lil' Yogis NYC is a children's yoga and fitness company designed to help children develop better physical awareness...

School Programs
Lil' Yogis NYC offers yoga in the classroom for grades pre-K -12 in schools throughout New York City. We will also come to any Special Needs School to host a yoga class in the classroom or during the Physical Education period.