Is there a difference between yoga for kids and traditional yoga for adults?
The biggest difference relates to the underlying objective. Where adult yoga is an exercise in strict adherence to established poses and alignment, our program embraces the idea that children should be free to engage their creativity and stimulate their imagination. (Alignment corrections will only be made if a child is doing anything that is unsafe or could result in injury.)
What style of yoga do you teach?
While we incorporate many of the traditional aspects of adult yoga, such as chanting, pranayama (breathing), vinyasa (flow) sequences and savasana (relaxation period), the Lil' Yogis NYC program was designed to be more free and fun than the typical traditional adult yoga class. In particular, our curriculum incorporates interactive games, creative movements, songs and props to create a lively environment that helps each child connect with the experience.
What are some of the benefits?
How much time do you have? We jest because the truth is that the benefits of yoga are infinite. By combining flexibility, strength, balance and fun, our program's many benefits include physical health, a peaceful mind, and most importantly, joyful, playful self-expression for children. And best of all, (from one parent to another) our program emphasizes relaxation and promotes a sense of calm.
What if my child isn't flexible?
Just as with adults, it is important to recognize that yoga is not about how flexible you are. Instead, yoga is about strengthening your mind and body. And benefits can be achieved regardless of your child's level of flexibility.
What should my child wear to class?
Children should wear comfortable, non-constricting clothing that provides them with a full range of motion. (No need to go out and buy any fancy yoga attire.)
Do you have any more questions? Please let us know by

clicking here!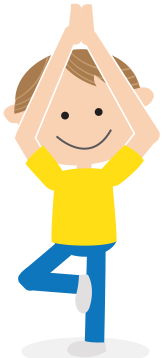 Welcome
Lil' Yogis NYC is a children's yoga and fitness company designed to help children develop better physical awareness...

School Programs
Lil' Yogis NYC offers yoga in the classroom for grades pre-K -12 in schools throughout New York City. We will also come to any Special Needs School to host a yoga class in the classroom or during the Physical Education period.