What is a Lil' Yogis NYC Franchise?
Lil' Yogis NYC is a family business that is committed to your success. We are looking for people who love children, love yoga, and are looking for a career that allows them to enjoy the benefits of both. We have proven our operations, marketing services, impact on kids and profitability over the past 2 years and are expanding the world of Lil' Yogis NYC by appointing franchisee to operate one or more Yoga Dream Worlds.

You may be the right person to be our next franchise:


If you genuinely enjoy children

If you are interested in owning your own business but not being in business alone

If you are interested in having a business with an excellent growth and profit potential

When you become a Lil' Yogis NYC franchisee you'll receive all the training, materials and support you need. And as with any family, we'll be communicating on a regular basis, keeping you aware of the latest trends and developments.

Training:
Yoga Workshops
Teaching Principles
Financial Management
Marketing Skills
Business Management

Ongoing Support:
Operation and Training Video
Personal Mentor/Supervisor
Annual Training Seminars

Materials/Equipment:
Lesson plans
CD's/Videos - Created by Lil' Yogis NYC
Teaching props
Bookkeeping/Accounting Resources

Marketing Support:
Solicitation Letters
Brochures
Sample Ads
Posters
Press Releases
Owning a Lil' Yogis NYC franchise gives you the freedom to be your own boss and the control to manage your business. Our proven formula offers a number of clear and specific advantages to the franchisee.
Home-Based Business:
You can run your business from local schools, camps, parks, gyms and adult yoga studios. This keeps the start-up costs low and ensures that your overhead expenses are kept to a bare minimum. It also means that you're not committed to one specific studio location and can reach children throughout your area.
Business Potential:
Lil' Yogis NYC franchise owners have the exciting opportunity to harvest financial rewards, while making a meaningful contribution to your community. As a franchisee you receive a turnkey business with potentially high profit margins and a relatively low initial investment.

This website and the information contained herein does not constitute the offer of a franchise. The offer and sale of the franchise can only be made through the delivery and receipt of a Franchise Disclosure Document ("FDD").

For more information on franchising you may e-mail lilyogisnyc@gmail.com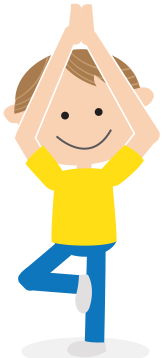 Welcome
Lil' Yogis NYC is a children's yoga and fitness company designed to help children develop better physical awareness...

School Programs
Lil' Yogis NYC offers yoga in the classroom for grades pre-K -12 in schools throughout New York City.